Alclad Deep Rust Streaks and Stains - ALCHW-007
Out of Stock
Was: £6.49
Price Now: £4.90 Sorry, currently not in stock!
Get notified when back in stock
---
Brand: Alclad II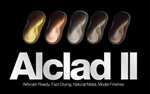 Part No: ALCHW-007
HS Code: 32091000
Origin Country: UK
---
Alclad Deep Rust Streaks and Stains - ALCHW-007
30ml bottle of Deep Rust Streaks and Stains to achieve a realistic, used and dirty look.
Alclad is a range of high-quality paints supplied ready for use by airbrushes.
They have a great range of natural metal finishes, as well as a selection of transparent, candy and effect colours. The metal finishes are very popular with all modellers from Car and Motorcycle builders to Aviation modellers.
---
---
People who bought this, also purchased these: