Volkswagen Type 2 Pick-up Truck 1967
Out of Stock
Was: £32.99
Price Now: £27.99 Sorry, currently not in stock!
Get notified when back in stock
---
Brand: Hasegawa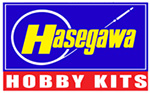 Part No: HAS-HC11
---
Volkswagen Type 2 Pick-up Truck 1967
The Volkswagen Type 2 (also known as Transporter or Bus) was the second automotive line introduced by German automaker Volkswagen. It was a van introduced in 1950, initially based on Volkswagen's first model, the Type 1, also known as the "Beetle". The Type 2 is the forerunner of modern cargo and passenger vans.
In 1950, Volkswagen announced the release of a very convenient new vehicle to be called the "Type 2". A box-shaped body mounted on the lower chassis of the famed Volkswagen Beetle, the Type 2 became the firm's second best selling vehicle. A high cargo bed extending from behind the driver's seat is a distinguishing feature of the pick-up, which also features a convenient two square meter locker storage space underneath the cargo bed.
Main Body - Injection moulded plastic in Cream
Other Parts - Moulded in Grey and Chrome
Clear Parts - Moulded in Clear
Wheels - White
Rubber Tyres
Instruction Sheet
Decals
Does It have Full Engine Detail ? : NO
The Type 2 was available as a:
Delivery van without side windows or rear seats (Panel Van).
Delivery van without side windows or rear seats and cargo doors on both sides (Walk-Through Panel Van).
Delivery van with raised roof (High Roof Panel Van), or Hochdach.
Van with side windows and removable rear seats (Kombi, from German Kombinationskraftwagen (combination vehicle), i.e. both a passenger and a cargo vehicle combined).
Van with more comfortable interior reminiscent of passenger cars (Bus; also called Caravelle since the third generation).
Van with skylight windows and cloth sunroof (Samba-Bus, first generation only; also called Deluxe Microbus).
Flatbed truck (Pick-up), or Single Cab, also available with wider load bed.
Flatbed truck, Double Cab, with two rows of seats (Crew Cab Pick-up).
Camping van (Westy; with Westfalia roof and interior).
Semi-camping van that can also still be used as a passenger car and transporter, sacrificing some camping comforts (Multivan, or Weekender, available from the third generation on).


---
---
People who bought this, also purchased these: