Micro-Gloss 1 oz (Liquid Abrasive)
Out of Stock
Price: £3.25 Sorry, currently not in stock!
Get notified when back in stock
---
Brand: Micromesh (Micro-Surface)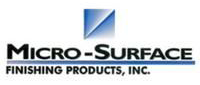 Part No: MS-Gloss
HS Code: 2513200000
Origin Country: United States

---
Micro-Gloss a general all purpose water-based liquid abrasive which uses a one micron aluminium oxide abrasive crystal to achieve a fine finish on acrylics, plastics, polycarbonate, fibreglass, wood, silver, gold, copper, brass, paint urethanes, lacquers, and polyesters to name a few. This unique liquid removed hairline scratches, haziness, and halos untouched by other products. Contains no filler or wax that could cause yellowing. Remove scratches and imperfections with Micro-Gloss and buff back to optical clarity. Micro-Gloss will remove a 4000 Micromesh or 1500 CAMI scratch pattern.
Micro-Gloss Instructions
Flush the surface to be polished with water and wipe with a damp soft 100% cotton flannel cloth. Make sure all crevices are flushed free of dirt.
Slightly dampen a piece of flannel, apply a dime size drop of MICRO-GLOSS to the cloth and rub briskly over a 1 square foot area. Work in a straight line pattern, applying firm pressure for 2 to 3 minutes or until MICRO-GLOSS has almost disappeared. Avoid using circular motions.
Continue in 1 foot squares, overlapping slightly.
Wipe entire surface with dry flannel cloth to remove any MICRO-GLOSS residue.
The surface should be dry before applying Anti-Static Cream.
Apply a thin film of Anti-Static Cream with a clean dry flannel, following the same pattern set forth in step 2. It is best to use the Anti-Static Cream on small sections, being careful to not allow it to dry.
MICRO-GLOSS will not remove any damage that can be felt with a fingernail. This damage must be removed with Micromesh cushioned abrasives.
---
---
People who bought this, also purchased these: